I was only 17 the day a doctor told me I had cervical cancer. After hearing the word cancer, I felt my body go a little numb. The doctor continued to talk. I had lost 2 grandparents to cancer. I could feel my heart throbbing, and the doctor continued to talk. I missed most of what he said to me. I felt like I left my body and was on another planet. I just wanted him to shut up. His statistics and treatment plans… no one had ever talked to me about these sort of things. He ended with the information that his suggested method of treatment would leave me unable to have children.
Three years later…
I was sitting at work after school completely and utterly exhausted. My pants had gotten way too tight and I was listening to an excited co-worker talk about how she though she might be pregnant. She was going over a list of symptoms she had. I hadn't realized before that exact point in time there were more symptoms for pregnancy than morning sickness.
I had never been around a pregnant person before and since being told I would never be pregnant, I wasn't exactly looking for pregnancy symptoms in myself. I didn't have morning sickness, but I did have all these other crazy things my co-worker was telling me about.
I left the test in purse for few days. I wasn't interested in having something else tell that I wouldn't have a baby. Finally, on a day I couldn't fit into any of my pants at all, I decided to take the test. I didn't believe my eyes. I stared back and forth from test reading results on the box to the results at least a dozen times. It had to be wrong. I ran out and bought 5 more pregnancy test all of different brands. All were positive. I was so excited and so nervous. I was married, but still only a sophomore in college. So many thoughts flooded through me.At this point I thought maybe it was some kind of weird flu. She did have the same symptoms as I did and I couldn't have children, right?
As I said, my pants were to tight. My biggest concern as a 21 year old unable to have children, was making them fit again. I went to a drug store when I got off work to buy diet pills. I had been in that morning, but there were so many I couldn't pick. I had decided on the one I wanted during the day and as I stood in front of the shelf that contained diet pills that morning, I realized all the diet pills had been replaced by pregnancy test. The store was remodeling. All of the diet pills were on the bottom of a shopping cart and covered by a zillion other tiny boxes and bottles of things sitting just a bit down the aisle. I took this as a sign and grabbed a pregnancy test.
Breastfeeding Problems
It was a rough pregnancy. A lot of bleeding. A lot of bed rest. I was in constant fear I would lose her. I read everything I could get my hands on about pregnancy, breastfeeding, and parenthood. I wanted to do everything right and being on bed rest I had plenty of time for reading.
From everything I read and was told, breastfeeding was easy, natural and it seemed every women could do it. It never occurred to me that I might not be able to. When I had cancer, I was told I wouldn't be able to have children. That doctor never mentioned that on the rare occasion that I managed to have a baby, I probably wouldn't be able to breastfeed. Maybe the point seemed mute. My doctor at this point hadn't mentioned it either. So, after my daughter was born I fed her, or at least I thought I did. Her birth weight was 5 lbs 15 oz. She dropped down to just above 4 lbs before we realized that I didn't have any milk. She seemed so fussy after I would try to feed her, I was constantly asking if that was normal. It didn't feel normal. At her first formula feeding my super tiny baby drank 6 ounces. We gave her 2 ounces then waited 15 minutes then 2 more and another 15 minutes and finally at the end of the last 2 ounces she was no longer fussy and fell asleep.
I felt emotionally worse than I can ever remember feeling. I hadn't trusted my instinct that something was wrong and I had starved my child. Not to mention that I couldn't do what I thought every women could so easily and naturally do. I was reassured by my doctor, nurses and lactation consultants that my milk would come in. I was constantly reminded that sometimes if your baby is born early it just takes a while.
A loud, crazy looking breast pump was brought to my hospital room. I was told to have my daughter latch on for a while every two hours, then formula feed her and then pump. This process took about an hour and 15 minutes. After the first 2 weeks I decided to sleep every other night and we stretched the time frame to every 3 hours. The next week I blew out the motor on that crazy looking breast pump. A lactation consultant came to my house with another one of those big, blue, loud pumps. More assurance that I would be able to do this. At 6 weeks, I blew the motor on the second pump. My life revolved around a desire to breast feed and I had to let it go so I could enjoy motherhood. I had cried so much, I felt like a complete failure. Why couldn't I do this? I gave up.
To be continued…
---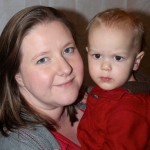 Crystal is the momma to four spectacular little blessings and the wife to the most amazing, compassionate man ever. She has 11 years experience as an educator either in public schools or through homeschooling. She enjoys using her creative side to educate her kiddos, working with kids in her community, and doing crafts. You can follow her on her blog On The Go Homeschool, facebook, twitter, pinterest, and instagram.